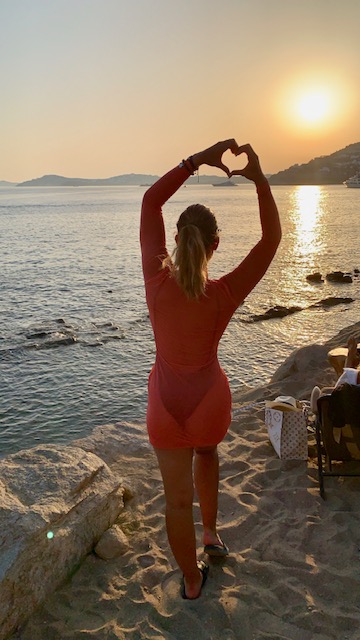 Melina Fitness in Mykonos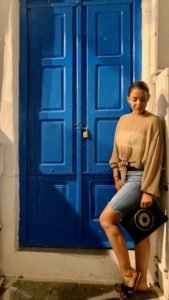 For as long as I can remember, I wanted to live in Greece for the Summer. As a kid, I came to Greece with family and friends for summer vacation. The longest time I stayed was seven weeks. Of course on vacation, it is the most amazing Time of your life with not a care in the world. Being Greek American, I was fortunate for these opportunities and experiencing a different life other than your typical American summer break. The summers have always driven me in a way that I can't possibly explain. Understanding the "Greek life" and applying it to my "American life" has given me a different outlook on how I want my LIFE as a whole to be. It's a feeling without explanation. It has been a motivator in who I am and how I work in fitness. It is the passion behind my job and is what I thrive off of to share with anybody I work along side with. It is the rush I get when I get excited about changing people's lives, as Greeks truly understand the meaning of "pathos," passion, "agape," love, and "dynami," strength.
As a 36-year-old, newly single, grown career woman trying to "make it," I made the decision to change my life in a way that for most may seem impossible. I've had a long, emotional, SELF growth year and I decided in March I wanted to live in Greece for the entire Summer. So with the help of my sponsors, family and client support, I relocated to Mýkonos to work, reflect, and soul search.
For the past few years I created a small brand out of Melina Fitness called Club Fit International. As I've mentioned and posted about this through social media and have been interviewed through several publications, you know that this is something I'm extremely passionate about. Through this business venture, this summer I hosted an event with my sponsor Optimum Nutrition. This was the first thing I did when I came to Greece in late June. It was something we had been planning for over a year, and three lucky winners came to Greece with me by winning a global Sweepstakes. The group ended up being eight people total. We spent three days in Mykonos, three days and Santorini, and a day in Athens. It was a fantastic group with several different types of fitness levels, ages, and genders. We spent the week bonding over amazing hikes, morning workouts, delicious Greek meals, and getting to know how each and every one of us lives our lives staying mentally and physically healthy. I was fortunate to lead this fantastic group of people and make an impact in their life that they will never forget being in Greece this summer together. I truly believe that traveling provides a rich that you cannot gain from anywhere else. Creating an experience with Fitness and Travel together is something that I'm looking forward to growing into my branding even more, and bringing more people to the country that I love so much. 
Following the Optimum Nutrition event, I had two other clients and friends join me in Mykonos. Sharing my culture with my work is something that is unique in how I am as a professional. It's something that makes me stand out in my industry, because I provide "Philoksenia," hospitality and friendship, with ALL I work with. It is the foundation of my brand and how I want "Melina Fitness" to be perceived. I want everybody to feel comfortable around me, and feel like I am their friend. In life it is rare to feel complete without the comfort of friendship and support. It is very significant in finding happiness and self confidence. This is why I strive to be relatable, welcoming, and overall positive to my clients and work colleagues. It's definitely challenging at times when things aren't reciprocated, but I will never change who I am and will continue to spread this through my branding as I feel it is what is going to make me the most successful in life.
Having my two clients here in Mýkonos was such a great experience. We also shared many laughs, Greek unique experiences, and bonded over how Fitness has ultimately changed their lives. Fitness is how we met and is now how we shared this beautiful country together. Life is crazy how it works. New friendships have developed and now we have stories and memories that will last a lifetime.
Like a blink of an eye, I have now been here for over seven weeks. More family and friends have come and gone, and every day is completely different depending on work. I've taken the time to try and find some balance here and be "Mykonian." However, It's very different than when I remember having summer vacation in Greece. The life is hard, people are struggling to make money to support them for the rest of the year, and the days are very long. Everything takes a long time to get done, whether it be getting a key made because the shop is randomly closed for three days, to getting a laundry machine put in my rental unit that I only just received three days ago after being here over a month. I am not on a consistent schedule which is definitely hard for me. My workouts are inconsistent and my nutrition is on and off. Every day I reflect on MANY things in my life and who I am as a person with both new and old relationships in my life. I'm taking each day as it comes, which is a huge change for me. I'm trying to live in REALITY and not overthink or play into what could be or what has been.
I think the biggest takeaway so far in my experience here, is definitely all the new people I've met and relationships that I've built. I've adapted to being a great Greek driver, and negotiating my way through getting ripped off as a tourist (shaking my head). I'm networking more and more as the days and weeks go on, and continue to build my name and branding here on the island. My clientele is on and off, but overall GREAT with the Concierge contacts I have, and I'm getting more booked and slowly consistent. Tourism in Mýkonos is at it's peak at the moment, however the rumor is that its 30% down from last year. I'm enjoying being off my typical meal plan and trying not to stress that my workouts aren't the same as when I'm home in my "American" routine. I'm learning a lot about myself and finding more patience in things that I thought I never had. I'm looking forward to spending more time with myself and developing more things that I can share with ALL.
It's crazy to me how life works. Remember… YOU are the only person who can control YOU. Take risks in life… because you only have one chance to do whatever it is that sets your soul on fire. Even if things don't go as you expected, LEARNING is POWER. This is truly the best form of success in life. Understand who you are and make decisions that will create happiness in your heart.
Thank you for reading… xoxo, your trainer & friend, Melina.
Don't FORGET to Follow my journey on social media @melinafitness